Office building for Shilien New Energy Co., Ltd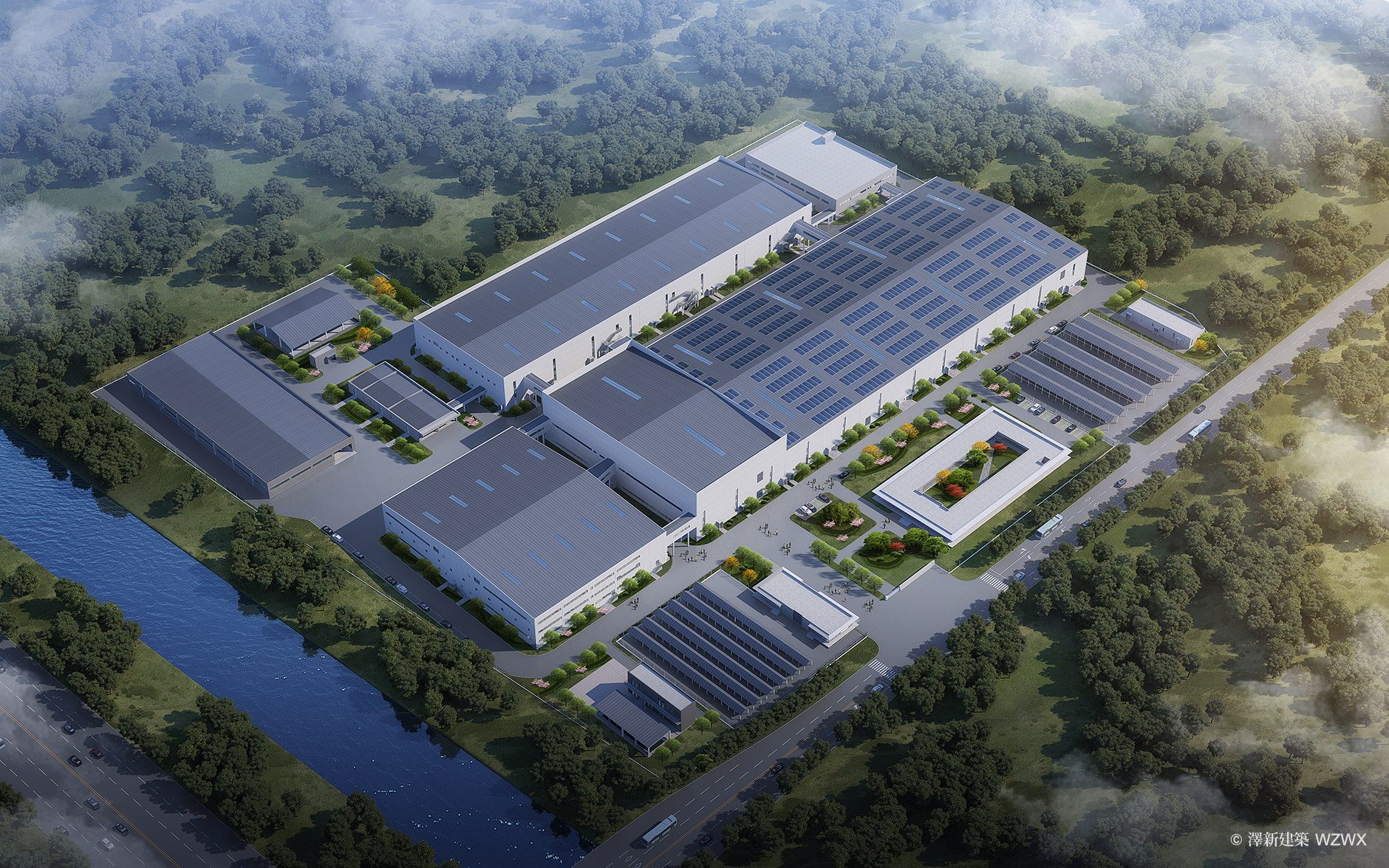 An Oasis of Calm: Office Building for Shilien New Energy Suqian Co., Ltd
This project is an administrative office building plus staff canteen set within a modern manufacturing plant, producing high performance batteries for electric vehicles. Within the factory complex it is thus an important signifier - in terms of being the administration hub, and at the same time as a hub for social gathering functions including day-to-day meals , sales/ marketing activities and internal training.
Rooted in the rapidly growing electric vehicles industry, the company is keenly concerned with the promotion of cleaner forms of automotive transport, and in turn the architectural language here is equally founded on a language of clean crisp lines and a rejection of excess.
The design strived for a humble uncomplicated presence. The form is a simple statement expressing communal unity and solidarity which lies at the core of the company culture. In plan the building is manifested as two L-shaped parts linked together to form a rectilinear central courtyard. The administrative office area, including a product showroom, occupies the south and east sides of the rectangle. On opposite sides, a kitchen, staff canteen hall and guest dining rooms are located on the north and west sides of the building. The two parts are tied together by a large overarching canopy, and a surrounding band of external walkways, into a single composition.
Siting of the office building defines it as a 'mini-oasis' within the industrial complex. Set amidst a landscaped garden, the office and canteen is accessible from all sides. Each façade is kept highly transparent, so that there is a sense of great visual connectivity between the office hub and the rest of the factory complex.
At the east entrance to the office zone, a curvaceous concrete wall welcomes visitors and extends further to form a solid backdrop for a product showroom area within.
A regular reinforced concrete structural framework organises the single bay linear strip of work and dining spaces within. Bound by a landscaped garden, the building encloses another inner garden space which is a kind of inner sanctuary for administrative staff.
While there is no expression of grandeur, there is a sense of luxury and comfort everywhere due to the visual-spatial connectivity to the exterior daylight and garden setting.
Projects like this are more broadly concerned with re-imagining the spaces of modern day industry. Large industrial factory complexes, typically characterised by economy and efficiency, often seem overly mechanistic, monotonous and stark places to work or to inhabit. In these scenarios, smaller scale architectural pieces, with more nuanced design sensitivity, or attention to the spatial presentation and landscaping, can be important signposts that enhance the sense of place and which bring about a humanistic touch.